Quick Overview
Product: WahRev
Review Summary: Link posting scam leading people into a ton of up sells with a side of potential identity theft and credit card fraud.
Price: $47-$97
Score: Scam
What I Found
Upon looking at this website (currently located at wahrev.com) it became clear they were part of a group of scammers I've been exposing for some time now.
These guys have tons of websites set up under different names, web addresses and fake personas but they all sell the same thing, a fake income opportunity about 'posting links'.
They have gone to a lot greater lengths in this one to tone down the hype and establish a higher level of credibility, at least in comparison to some of their other websites I've reviewed. Rest assured though, it's just packaged differently and there's nothing legit about it.
This same website is currently known as: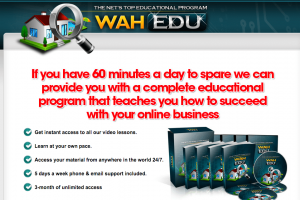 Wah Academy (wahecademy.com)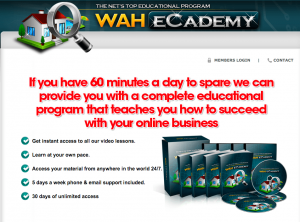 Work At Home University or 'Wah University' (www.wahuniversity.com) When you go to this web address it simply takes you to Wah Edu.

After all the complaints and people exposing them they continue changing names which is a regular practice with these guys.
I am pointing this out to show you that they are all connected and to explain why that matters, take a look at some of the complaints I found…
This is just 1 of 17 complaints lodged with the BBB: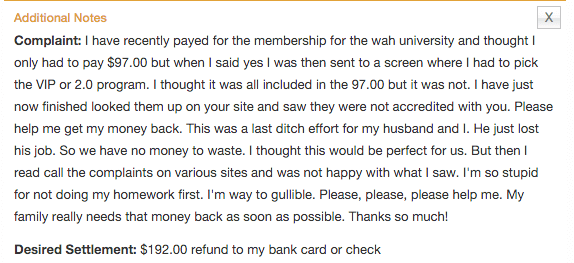 There's also a complaint found at RippoffReport.com that shows exactly what these guys are all about and there are many more.
It becomes hard for people to identify these as scams given how often they change their names and web addresses, they just keep on publishing these websites.
It's Not Complete
The first lie they hit you with is that they are providing you with the 'complete system' to make money online for only $97.
What actually happens when you sign up is you are taken directly to other products that you 'need' to make this work. They are selling you some basic and generic information that you could easily find online for free, nothing more.
Once they've put you through the funnel of extra stuff they want you to buy they begin calling you on the number you provided to pressure you into buying much higher ticket products. Since no one is actually making money with this they claim that in order to 'make this truly work' you need to keep spending, they are very good at what they do and extremely persistent.
They also spam your email with extra offers that are equally junk and sell your personal info to third parties so that they too can market their crap to you.
After looking up the phone number they use for 'support' I found multiple reports of people being repeatedly called and harassed by them to buy more products.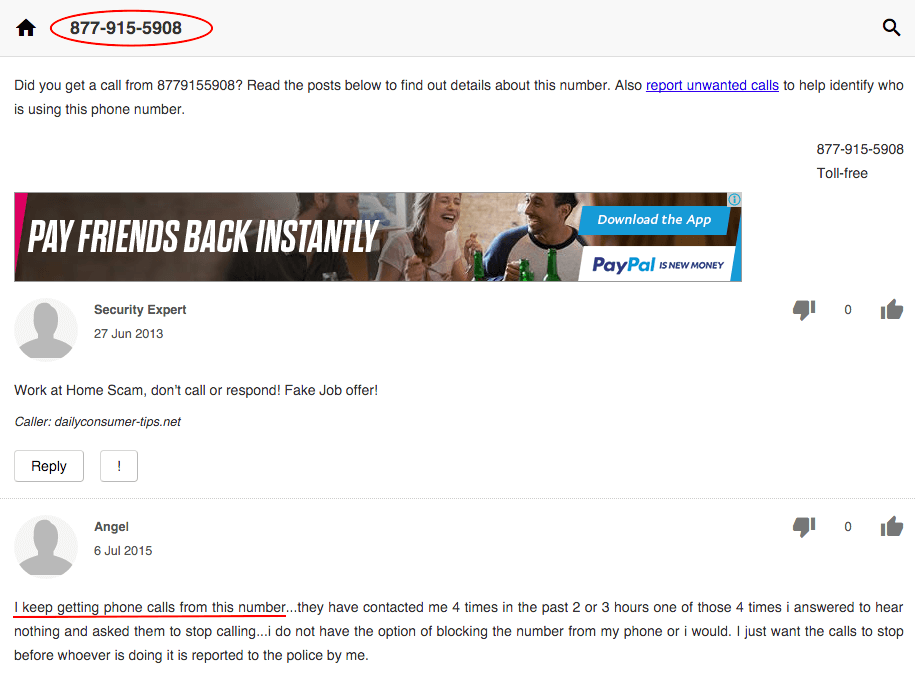 Getting A Refund
Unfortunately actually getting support from these guys is very difficult because they focus their attention on selling rather than offering genuine support. Many people have reported not being able to obtain a refund from this and other websites associated with these scammers so be careful if you buy.
Other Issues
Some of the other things to be aware of with this website is that there is a very real risk of credit card fraud and even identity theft. When you sign up you are giving them a lot of your personal and financial information and with their track record I can assure you this is insanely risky.
These days, peoples info is getting sold left right and centre and it's a lot more common than you think. If you don't trust them, don't give them your details.
Final Thoughts
I've seen a ton of these websites and I am actively working to expose each and every one of them as I come across them. Posting links is not a job, it is a business called affiliate marketing.
Affiliate marketing does work and it's how I make money but like any business it takes some time and effort to get working and you need the right training and support, none of which you will get from these guys.
Don't let fakers like this take your hard earned money and sell you false hope, forget anything that sounds too good to be true. Anyone telling you it's going to be quick and easy to make money is likely a scam, if that was the case then everyone would be doing it.