Many people are searching for the answer to whether or not ACN is a pyramid scheme or some kind of scam. Hopefully, my input can help answer this for you.
What Is A Pyramid Scheme And Is ACN One Of Them?
To answer this lets look at the definition of a pyramid scheme according to Wikipedia:
A pyramid scheme is a business model that recruits members via a promise of payments or services for enrolling others into the scheme, rather than supplying investments or sale of products or services. As recruiting multiplies, recruiting becomes quickly impossible, and most members are unable to profit; as such, pyramid schemes are unsustainable and often illegal.
Essentially what it means is that people are only making money based off recruiting others into the same scheme they are in. The organisation shares amongst it's members a portion of the newly recruited members joining fees. Basic definition of a pyramid scheme in bullet points:
Pay money to join an company
You only make money by

recruiting

others, and they make money recruiting others and so on. You do not make money from the sale of genuine and marketable products and services to the public
Once you recruit someone, the company shares with you a portion of their sign up fee
There are some variations and different types of pyramid scheme models, but that is the basic idea.
So Is ACN A Pyramid Scheme Based On That?
The short answer is no, it is not a pyramid scheme by definition and according to the law at present. There has been cases made against ACN but they have ultimately failed.
The reason is because you can sign up as an IBO to build your team OR just to re-sell their products and ALL commissions are based on the sale of genuine products. In my opinion, their products are pretty good!
They provide telecommunication products through major providers such as Internet, mobile and home phone packages, electricity and other related products and services.
So if you signed up 5 people and only 3 of them where now switching over and paying for ACN telecommunication services, you'd only get commissions from those three people. There are performance based bonuses though, but you don't get commissions directly from the sign up fee. So the fact is they have a very tightly sown up way of doing things that allows them to operate within the law.
Make a Decent Income Just Selling By Products? Not Likely
The real truth is that you are not going to make any money by selling the products… that's just how it is.
If you think you are going to go out and sell people into buying your products alone and make money that way… you are very mistaken. You would be competing against major players in this arena that have multi million dollar marketing and sales budgets, not to mention experience.
The only way people buy into this is because it has an opportunity attached, and I can't blame them either. The only way to make the kind of money you are really wanting is to recruit, plain and simple. Anyone telling you otherwise is either delusional or is not being straight with you. Plain and simple.
Is ACN Really Worth It? Donald Trump Seems To Think So!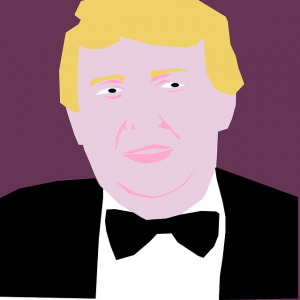 Yes we all know Mr. Trump endorses ACN but realistically that guy would promote anything as long as he got paid. He's a businessman and a smart one at that. Not to say his endorsement isn't well founded, but I wouldn't just go off that if I were you.
To properly answer if this is worth it for you I am not going to get right into the compensation plan or anything like that. What I do want to do is talk very briefly about what you get once you're a member and then sum up my final thoughts about the company.
What Are ACN Products Like?
There's nothing wrong with their products, they work well and sometimes can even be cheaper, not always though. In my opinion this is a huge advantage with this company, their products are genuinely worth getting and aren't overpriced. Not to mention, everyone needs them!
That said, my experience with their customer service, along with a few people I know, was not the best. I found them to be hard to communicate with and sometimes even rude, but not the worst I've ever dealt with.
What Is The Training Like?
Like most companies, they spend way to much time talking about motivational pie in the sky "you can do this, we are changing the world" type stuff. Your mindset is HUGELY important because any business owner needs to stay motivated to achieve success, but ACN seems to take this to a whole other level.
Just get to the nuts and bolts and tell it like it is, how I can build my business… that's how I felt at most training sessions. I didn't like having to pay for these conferences all the time, and they are made out to be essential, like if you don't go you'll be screwed type thing.
My coach was pretty good though I have to admit, he was super dedicated and very helpful. I think it really does depend who you sign up under though as to what direct coaching you will receive. There is some useful free training you get access to as a member which was good also.
The Compensation Plan
I could write an article itself on this but let's just say as far as mlm's go, it was pretty good. I think as long as the structure is fair and reasonable then that's all that matters. Success with these things does not depend entirely on the compensation plan, it depends on you and your efforts.
The Costs
The cost for me was $500 and a monthly fee of around $40 for the 'personal business assistant' which has some useful tools and training. I don't think this is unreasonable to be honest.
What I Didn't Like About ACN
Even though I'm not a member now, as I have pursued other things, I am not claiming that it's a scam. That said, here's the ONE thing I didn't like…
I was told to bash down the doors of my friends and family and their friends and other people I've never met to get into this business. Every living person becomes a prospect, I did not feel comfortable with this. I quickly realised I needed a plan to get some leads or I was going to fail at this. Friends and family were not an option for me since I had moved and I just didn't feel right about it, not after the first dozen or so knock backs.
I wanted to set up a real business plan and get training on the nuts and bolts of how to make this work and all I seemed to get is motivational speeches and "go after your friends and family" from everyone or start fake conversations and lead them to this business. I'm not kidding.
What I've Learnt
I have since learnt a lot about and business in general, in particular I have learnt about Internet marketing. I know beyond any shadow of doubt that the only way to make something like this work is with quality and targeted leads coming into your business each and every day.
So how do you do this, and how do you do it for free?
You need to learn the basics of Internet marketing and attract targeted leads using free traffic. Sure you can pay for leads, but that could cost you a fair bit and if you don't have the cash I wouldn't go that route.
Final Thoughts
I'm not saying that you will or won't make money with ACN, but if you are going to pursue it I strongly recommend setting up an online presence. Like any business, ACN has it's pros and cons so understanding these can help you make a more informed decision about joining. It's not a pyramid scheme and it's not a scam either, but I do think there are better options to consider and that chasing family and friends is super lame. Hope this helps!