In my Chris Farrell membership scam review I will show you my personal experience with the program and what you can expect on the inside.
This is a program that really does provide newbie Internet marketers with some decent value for money. The training is clear and easy to follow, even if you've never done anything like this before.
Overview
Product: A newbie friendly learning platform designed to teach you how to build a profitable website from scratch.
Cost: $37 per month
Summary: I like that Chris is upfront and not a guru type, the training is legit and the advice is reasonabley sound. There are some issue with how basic it is, some of the content is a little dated and the community aspect is lacking. All round not a bad program though for the price.
UnGuru Status: GREEN
The Sales Video
I found his sales video to be pretty low key and of a high quality, there was no pushy sales tactics or "look at how rich I am" type stuff. This is a big plus in my books.
Anyone pushing hype, overnight riches or 'secret' push button techniques is a big no go for me.
Chris Farrell's Profile
Chris Farrell started out his Internet marketing career in 2008 and has been kicking goals ever since.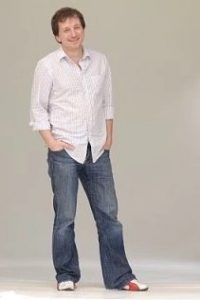 He produces mostly coaching programs to help people make money online.
Chris has created at least 8 programs in his career that I can find and has put out some very worthwhile training.
I think overall he is just a pretty likeable kind of guy that delivers value to people. Nice to see when the net is so full of scams.
The Product
The product in question contains a number of bite-sized videos in different categories to help people start an Internet marketing business.
The core product is getting people to opt-in to an email list of yours and then marketing to them.
So to lay out the main training you can expect on the inside…
Getting Started Videos
These are some intro videos to wet your appetite with this training.
10 Minutes To Success Videos
This is some basic getting started training to create a 3 page website designed to get subscribers into your email list. It is done over a 31 day period, which personally I think is way too long for what you are actually doing here.
You won't be making money by the end of this time, it is pretty much just a practice website you are making in the 'screen writing' niche. You basically set everything up using a plugin so that it is done for you.
The good thing about this training is that if you have never had any experience online whatsoever, you will learn some of the absolute basics in setting up a 3 page 'opt-in' website. Nothing fancy though this is very basic stuff.
Making Money Labs
This section contains quite a bit of useful information for people to learn. There are a few up-sells for different products within it, which is ok but you may end up spending more than you thought at the outset.
What I liked in particular was the 'OP lite' training that is designed to take people by the hand and teach them how to actually build their own unique 3 page website to gain subscribers. With enough training this is the section where people can actually build something original and use it to make some money.
What I didn't like about this is that it is kind of buried amongst a lot of other stuff, this is one of the most important aspects of the training for this product and I think it should be highlighted better to make it easier for people. But that's just me.
I also have to say I don't really agree with his summary on making money online: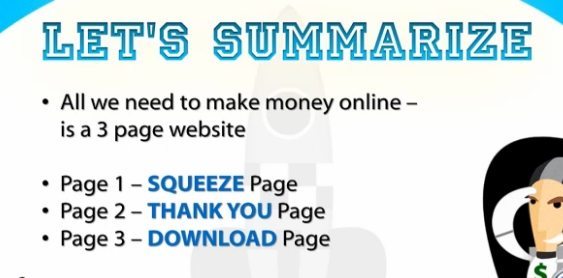 Having said that, it does depend on what exactly you are trying to achieve online. Maybe saying "that is all you need to create a 3 page opt-in style website and do email marketing to make money" would be more appropriate in my opinion…
I Love Traffic Videos
This is the section is designed to teach people how to actually get traffic. With the simple squeeze page system you are following, the most important part will be getting traffic.
Chris mainly talks about Facebook advertising and video marketing with this training and there are definitely some useful tips here. He also discusses forum marketing and guest blogging.
WordPress Wealth Videos
Ok so to me this is one of the biggest value sections in this program. It will teach someone the basics of setting up a website and how to add to it.If you've never built a website using WordPress, this will shed some light on the matter.
The problem here is that it's very basic and you are not taught some of the most fundamental concepts you will need to learn to actually make money with a proper website, such as:
Keyword research
Getting free traffic by ranking in Google, Bing and other search engines (this is not included anywhere in this entire membership)
Very, very basic website training that will not lead you to creating an authority website in itself
So that's the run-down on the members area and what is being offered, let's sum it all up…
What's Good?
Chris seems pretty genuine and not a typical guru
The training is very easy to follow and is in video format
You will learn some new things the right way, nothing 'black hat'
Reasonable support, better than most
What I Didn't Like
Training is way too basic for people to progress with their own website, other than just squeeze page marketing
The support is there, but it is not great. The forum is almost dead and the comments below the training is ok, but not very helpful either. Pretty much just a bunch of people saying…"yay I'm actually doing this, how exciting!"
There are a few too many up-sells scattered throughout the training for my liking with not enough included. If you were paying a one off fee then that's fine, but this is a recurring membership and I think more value should be added
It also appears as though there are no new weekly webinars being created, just some recordings. I thought he said there would be weekly webinars but maybe I'm mistaken
There is no training on how to get your website ranking on Google or get traffic other than through what I mentioned above. I believe setting up a niche or authority website is key to online success and learning how to get free traffic through Google is an absolute essential piece to that puzzle.
The website training is a little bit scattered around the place. I suggest people literally go through

every

single link in the 'specific skills' tab to ensure they know where everything is and what it means for their business. For example the core of the product is email marketing, so a hugely important piece of the puzzle is learning how to write effective emails and get them to convert into sales. It is certainly not obvious where to find this training and it is labeled 'permission to commission'.
Who Is This Designed For?
This product is designed for complete newbies to Internet marketing and those that just want to pursue an easy squeeze page system first and foremost.
Tools, Training and Support
For the mooney I would say there is a lot of value and you will definitely learn some useful skills as a newbie. Training is very basic however and does not scale unless you want to purchase mentoring at a pretty hefty price.
The tools are mostly outsourced, you have to buy, such as hosting and any of the done for you stuff.
The support is good, but not great. The community aspect is very close to not being very useful at all.
Final Verdict
Not a bad product by any stretch, but there is a much better alternative for literally an extra $2 per month (when you factor in having to pay for additional website hosting through Chris Farrell's membership).
In fact with some of the up-sells I would say my top recommendation actually works out cheaper. All things considered it's not a bad way to go, but not my top recommendation.