Quick Overview
Website: StartRevShare.com/v2.html
Summary: A revenue sharing platform that claims to be a legitimate advertising platform with solid external revenue sources capable of sustainably paying out 150% ROI on adpacks to investors. At the time of writing this, this website has no advertising options available, no adpacks for purchase and have not proven the 'Start Network' is or will be an entirely separate and sole means of paying investors.
UPDATE: According to the company itself, the entire adpack rev share concept was scrapped in January of this year. Version 2 is not version 2 at all and the FAQ page is a complete lie. The company implies that they have 're-vamped' the rev sharing platform to make it more secure but the fact is there is no adpack rev share component. Period. They are simply using this as a way to drive people into the VIP membership and Start network, I explain these in detail below.
The new concept is you get paid with Adzcoins for sharing the start network with others (among other ways) and the company pays you a passive ROI based on it's total profits. You can only cash out earnings if you are a VIP member which throws up a pretty big red flag in my opinion.
Price: Free/ $500 +
Score: 1/10
About The Company
The company website is run by Jens Steyaert out of Belgium and is the successor to version 1 which was shut down not long after launching. Version 2 sets to be the 'next big thing' created by Jens and claims to have all the answers as to why the first one failed.
They actually "guarantee people a massive ROI forever" which is a huge red flag for a company claiming not to be a deceptive scheme.
The sales page for version 2 starts out by practically confessing the original version was a Ponzi scheme.
Here's a screenshot of the sales page:


The marketing material suggests that the key difference with this program over others is that investors are paid out according to 'real profits gained through legitimate sources' in the form of their start network of websites.
Jens also makes a big point of telling people how he has millions in Adzcoins (ADZ) for a backup. At the time of writing this 1 million ADZ equals about US$50,000.
Jens owns a number of websites that are the alleged 'source' of revenue to pay out affiliates investing in these ad packs.
Adzcoins & The Start Network
The following is a list of the websites that are part of the start network.
AdzCoin.org
This is the website  of the crypto currency Jens is responsible for, known as ADZ. This is the only way people can buy and sell throughout the start network of websites from what I have seen.
These ADZ are currently worth less than US$0.05 outside of his network of websites according to coinmarketcap.com:

StartPeeps.com
This is a social media platform that currently has around 30k members according to the company website. It pays people ADZ for engaging in the platform. Joining this platform is essential to obtain your 'e-wallet' which facilitates the buying and selling of services and ad packs as mentioned.
After logging in the user is immediately encouraged to upgrade to VIP in several places, this status is essential if you wish to withdraw any money at all outside of this platform.
On one hand we are told the VIP membership is limited to only 500 people:

Whereas another page is telling us it's limited at 2000 people: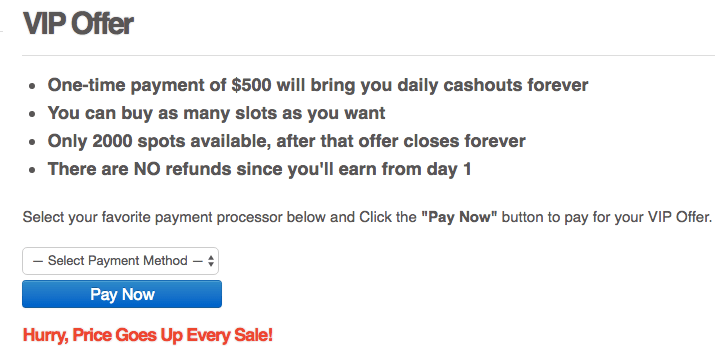 Either way, it costs between $20-$500: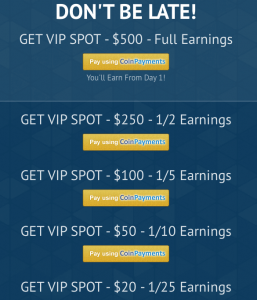 For $500 you get a 'full share' of the following income streams…
#1 ADZ Extension Co-Op Program: Apparently by becoming VIP you're unique referral ID will be advertised by the company which gives you a commission shared across all the VIP members without lifting a finger. This commission is paid out in ADZ and can only be 'cashed out' by VIP members.
The idea behind the ADZ Extension is to have a publishers website visitors pay for content with ADZ when the user has 'ad blocking' software enabled. When a website visitor has ad blocking enabled, a banner will pop up in place of the ad (or some other way) instructing the visitor to sign up for StartPeeps. Participation in StartPeeps and other ways will then allow the user to earn ADZ and 'donate' these to the publisher in order to unlock their content.
I don't know about you, but it would want to be some freaking out of this world content providing insane value that no one has touched on anywhere else to go to that kind of effort- just to read an article or watch a video! Think about the effort involved by a typical Google user, that's a solid detour to say the least.
The process as I understand it:
User lands on webpage searching for something in particular
User gets 'blocked' from viewing your content courtesy of Jens software
User is asked to sign up for something they know nothing about
User must sign up and then complete 'tasks' to get enough ADZ to pay to unlock content
User does all of this (right after hell freezes over) then goes back and pays for the content to be unlocked
Unless I'm missing something here, this is simply not going to happen lol.
Here's what would likely happen the majority of the time in the above scenario:
User exits the website and finds another article, out of frustration never visits this website again
User turns off ad blocking and views the content as normal
In all fairness though, I do like the overall concept that visitors have another option to view content free of ads and publishers can still earn a revenue. I just don't think this process has the answer in it's current state.
What's more is that I highly doubt a publisher will ditch ad revenue for this in favour of paying $500 for VIP status to be able to withdraw the full share of the donated ADZ. Maybe, but at this stage I highly doubt it.
It's obvious this is about sucking money out of publishers who will ultimately receive small returns and be automatically sending their visitors to join Jens social network. At this time the publishers visitors will be encouraged to 'upgrade' to VIP to earn passive ROI's and get knee deep in the opportunity. You'd honestly have to have an enormous amount of faith in this opportunity to risk your entire websites reputation by recommending this to them.
I'm sure as hell not willing to do that based on what I've seen and I know many other website/ blog owners that would feel the same way.
#2 50% on referrals ADZ: Instead of earning the regular 10% of your referrals ADZ income, you'll get the full 50% as long as you buy in at the full $500 level of course.
#3 More Referrals: VIP members get paid an extra 5% on levels 2 and 3 referrals. The website also states that you will have 'referrals for life' given to you randomly during the course of your membership.
The website constantly emphasises the whole 'get in while it's on the ground floor' mentality but there is no way of knowing when, and if, this will ever 'take off' as Jens suggests.
StartPeepsCoupons.com
This is a coupon website run by Jens that provides people with a selection of savings from different online stores. This does appear legit in itself and the only website I've seen that is completely separate of the referral program.
One thing I will mention is there was an offer under the 'popular' tab for Amazon that had no discount or offer at all.
Not sure what that's about, maybe they are still ironing out the kinks. If this isn't providing unique value to consumers though it will not be paying the company the kind of revenue they will need to sustain 150% ROI's in any kind of reasonable time period.
StartPeepsMarket.com
This is very similar to a website known as Fiverr.com that operates as a marketplace. Vendors sell their services and users can get stuff done for cheap. You must use your ADZ to make purchases for services rendered, which means you must join their social network first.
After having a look at a fair few of these it does not appear as though many people are actually using this service. It is only new though to be fair.
StartPeepsFunding.com
This is supposed to be some kind of crowd funding website but is not operational as of writing this.
StartPeeps.com/startsearchengine
The search engine of the future- according to the company. I'm personally not so convinced, pretty sure I'll stick with Google.
Where Is The Money Coming From?
As stated earlier, the company claims to be paying people for giving away free browser extensions which begs the question of how they can do this? Where is the revenue coming from to pay for for the ADZ Extension Referral Program when it comes time to cash out?
My thoughts…
When you give people this browser extension then they are inevitably going to be prompted to join and participate in all of Jens networks including the coupon website. The company makes affiliate commissions every time someone makes a purchase through this website.
Thus, it seems at least plausible that funds from the coupon website are being used to pay affiliates that have given away these free extensions.
At best this is not the full story though as I am about to explain…
How The StartRevShare.com Platform
Really

Works

The sales page is really quite vague about the VIP and the adpacks and how they fit together. According to official FAQ page on their website we are told there are 3 main ways to earn inside this platform:

Buy adpacks and they mature at 150% in an unknown period of time
Refer others into your downline who will pay you 15% on all adpack purchases inside the system
Surf advertisements provided to you by the company and make a few cents
There was only one problem with all of this- once you sign up the members area has none of this!
After logging into the back office I was not able to purchase any of these adpacks being talked about by the company. There is no option to do any of this at all, the whole platform just points people to upgrade to VIP and take part in the income streams explained above to the full.

If you need to pay $20-$500 for VIP status to be eligible to purchase ad packs then clearly the real revenue facilitating these 150% ROI's is being drawn from VIP purchases themselves. cash out your revenue, it's a crock.
I almost fell over when I saw this one though:

Ponzi scheme: paying existing investors with the revenue from new investors as oppose to revenue gained through legitimate investments in the market and/ or through the sales of goods to non-affiliates.
Earning & Spending Your ADZ
The only way you can currently earn ADZ is to use the social platform, marketplace, search engine and a refer others to do the same.
The only way you can use any earned ADZ is in the marketplace to buy 'gigs' and a very similar partner website offering a crypto currency rev share platform located at cryptocointraffic.com. There's no way the majority of people are going to join this referral program to buy gigs and purchase content that almost NO ONE is 'locking up' with this system.
This leaves funds being used to gain entry into a similar scheme possibly even owned by the same people.
Alternatively you can cash these ADZ out fully IF you purchase a $500 VIP membership…
What I Liked
The

general

concept of giving content publishers another way to reach those with ad blocking enabled browsers is kind of interesting

in itself
The coupon website does seem to be a separate revenue source that could be used to pay out a percentage of affiliates legitimately. The question is though, how much value does this really have over similar websites and how can we know the amount of revenue coming from this to pay out adpacks as they mature?
What I Didn't Like
First of all, there are no adpacks available for purchase in the back office, we are only given the option to purchase a VIP membership. A membership that apparently advertises your referral link, allows you to earn more money from referrals and allows you to cash out funds.
UPDATE: That's because the entire adpack campaign was scrapped for reasons unknown, yet the company uses a sales page that does not explain this properly to people and provides a FAQ page that flat out lies to people about what is on the inside.
The company claims to be giving people a way to 'be free from ads' and allow valuable free content to continue when the reality is quite different.
Yes, both publishers and content viewers can use this entire system for free but in order to get the actual cash benefit of this you must currently hold a VIP membership worth $500. This would inevitably see publishers 'locking up their content' and only sharing it with those that pay them!
Thus, content creation becomes about building your downline and locking content behind a paywall. That is a joke for everyone involved.
It also appears as though the user base for their other so called legitimate revenue streams is fairly dead. For example I couldn't see any number of people having placed a job in the Market Place at all. Not only this but to make a purchase in this marketplace requires funding your account which is a super elaborate and annoying process to say the least.
To fund your account requires creating a BitCoin wallet somewhere, funding it and then creating an account with Yobit.net to trade BitCoin for ADZ using the address you are given in the social media platform. The worst part is that none of this is even explained in the very area you need this information- StartPeeps! The only reason I know is because I found the blog lol.
Think about this for a moment…
An everyday consumer want to get a gig done for $5. They have the choice to go through this elaborate funding process that can actually take days to complete if you are setting things up for the first time OR using a better quality and better known platform known as Fiverr.
Which would you choose?
I can honestly see a lot of people becoming frustrated when it comes to making a simple $5 purchase for a gig. So much for creating a valuable third party marketplace for non-affiliates to fund ROI's.
Other things I wasn't keen on:
On one hand they say VIP membership is limited to 500, then they say it's 2000 on another page… which is it?
They claim to have all of these truly separate streams of revenue to pay affiliates buying adpacks but at present the only legitimate revenue source that could possibly justify 150% ROI's would be their coupon website
Jensen hasn't proven a very good track record and has some pretty bad complaints online
There is no option to even buy an adpack in the members area despite the FAQ clearly stating there are adpacks paying out 150% ROI
The relationship between the adpacks and the VIP was not clearly explained at all
Claim to have millions of ADZ in stockpile which may be true in itself but 1 million ADZ equates to around US $50k
Final Thoughts
Despite the company's claims of legitimacy and third party revenue sources I am not convinced this is 100% legit. In fact, at this point I believe this is a recruitment driven Ponzi scheme.
In one way or another these websites are all interlinked to the purchase of a low value crypto currency and do not hold the kind of value I would expect to support the companies claims to be generating solid revenue from non-affiliates.
For example: Everyone using the marketplace is an affiliate by default, since they need a StartPeep account. Likewise, the majority of those joining StartPeep are those looking to make money with the opportunity. All members are strongly encouraged to participate in the opportunity by 'upgrading to VIP'.
Until I can say for certain what the deal is with the 150% ROI adpacks, I will resist labelling this as a scam.
The only way people earn real money with this is to pay for VIP and then get a passive ROI that is most likely coming from the VIP sales themselves.
I also intend on keeping an eye on the 'Start Network' itself to get a gauge on how it develops. Personally though, I'm on the Ponzi side of the fence with this given version 1 of this same platform, their emphasis on VIP upgrades and how interconnected these websites are to the opportunity.
Based on what I have seen, I do not recommend this as a legitimate business opportunity.
I spent years listening to 'gurus' which left me broke, frustrated and totally lost. There's only ONE program that helped me create a real income online, here's how it helped me succeed...