The Team BeachBody mlm business opportunity seems like an incredible way to earn an income with a lot of exciting  potential… but is this really the case? Read on to learn the truth about this company, it's products and what people are saying.
About Team BeachBody
The business was founded in 1998 as a health and wellness mlm company specialising in work out videos and sports supplements. They are a member of the Direct Selling Association and are BBB accredited but they do have an awful lot of complaints online.
The Products
They have a vast range of products for energy, hydration, recovery and other that apparently help people get fit and maximise workout results. The fact is there are thousands of these supplements on the market and I struggle to see how they are that much better.
Granted I haven't used them but I have used supplements before and I know there is an incredible variety of these, most claiming similar things to these products.
They do have an NFS International third party verification which is a good thing as not all health and wellness mlm's have this. That said it is very common for these types of companies to inflate the credibility of their products and one way they are doing this is by the endorsement of a Harvard trained sports nutrition scientist. While his knowledge and qualifications are certainly credible there is one major problem, he's on the payroll!
I'm not saying the products aren't good, but I'm skeptical to believe they are the best thing on the market for the price. In fact the 4 core products alone are quite expensive and that's not factoring in all the other products they are marketing as vital to achieving optimal health.
These 4 products are designed to be used together as part of a process so the cheapest option is to buy the 'BeachBody Performance™ Advanced Stack' which has all four and costs about $200. It seems as though there are about 40 servings worth of product overall so if you did 5 workouts per week it would be gone in 8 weeks (5 workouts x 8 weeks is 40 servings).
So a 1 month supply is about $100 at that rate and that's just for the basic 4 products.
They also have a lot of individual workout DVD's along with a streaming service whereby people pay about $12 per month to access.
After reading a recent review on the BBB website it seems they are only giving people access to a select few workouts rather than the more popular ones on the streaming service though. In other words they sell the good ones separately!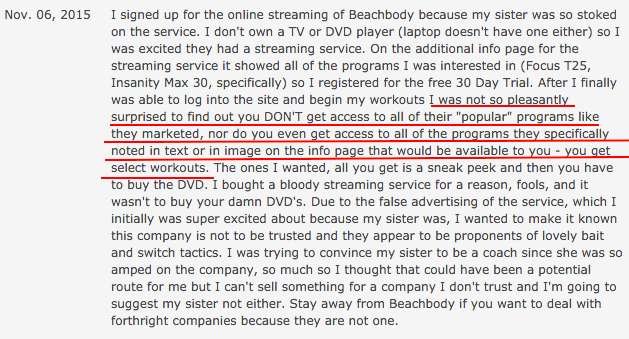 How good these products really are is something you should decide for yourself, but the way everything is geared means it could become an expensive exercise for most people just trying to get fit. The truth is you don't need all that stuff to get fit and healthy, not at all.
Complaints
The company has an absolute boat load of complaints online, most of which are about shifty credit card charges, deceptive marketing and not processing refunds. They have over 1200 complaints between consumeraffairs.com and the BBB website alone which is crazy.
Here's just 2 from the Consumer Affairs website in the last couple of days…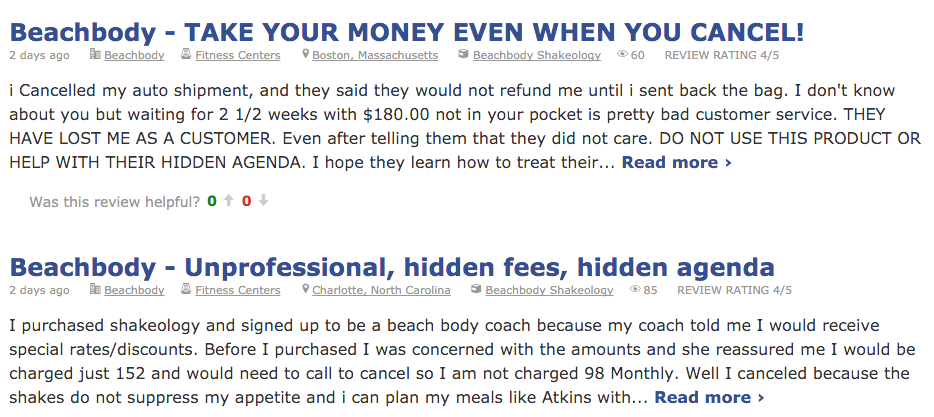 Personally I have never seen so many complaints about an mlm company in all of the reviews I have done to date, I strongly recommend proceeding with caution if you intend to sign up with a credit card.
The Business Opportunity & Compensation Plan Explained
The opportunity is marketed as a way for people to get ripped and make great money sharing this with friends and family, or anyone else that will listen. In mlm it's really a case of recruiting people underneath you so you can build a large enough army of people doing the same thing. Eventually you'll hope to turn that into a sustainable income.
How You Can Earn
Retail Commissions: This is where you can earn 25% of any retail sales to your customers and 15% of the products your directly sponsored reps buy each week. You can also earn  40% commission when you sign people up to the streaming video service.
One thing I noticed is that you can buy directly from the company without knowing a rep and they even sell their products on Amazon directly! That's not a good thing but the prices on Amazon are more expensive so there is still incentive to buy from a distributors replicated website it seems.
Downline Commissions: There are 19 levels of rank within this company and depending on what level you are at is what you can earn in this aspect of the compensation plan.
This company operates on a binary plan whereby you only ever have 2 people on your first level. You get paid based on the team volume (TV) of the legs each month, TV is just the purchasing volume of anyone other than your customers or personal orders and includes your entire downline. Everything runs in 'cycles' of 300 TV, so each time you reach 300 TV you get paid a set amount according to your rank within the company.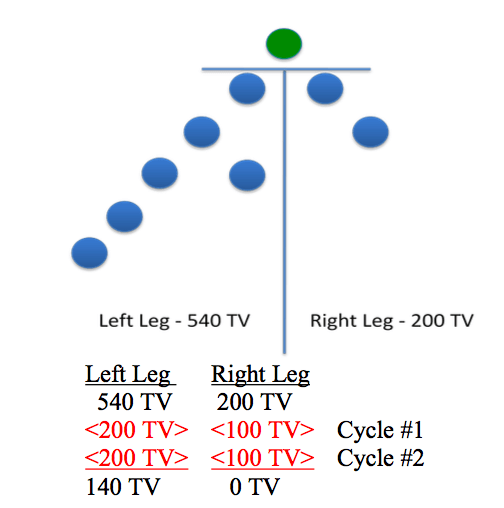 Here's what each cycle is worth according to what level you are at:
Coach= no commission
Emerald= $14 per 300 TV cycle
Ruby= $16 per 300 TV cycle
Diamond and above= $18 per 300 TV cycle
Looking at the picture above, if you were at Emerald rank you'd earn 2 cycles for a total of $28 in commissions.
Based on these facts and the current BeachBody price list, it would require $1020 worth of purchasing in your downline to earn one 300 TV cycle of $14 as an Emerald rep!

That means you are only getting a 1.37% commission and you are the one doing all of the leg work! You are probably starting to see why it requires a lot of recruiting to become successful with companies like this.
Bonuses: There are various matching, pool and incentive based bonuses on offer also.
Getting Started
It costs $39.95 to join and receive your 'Business Starter Kit' which includes access to a replicated website, your back office and some basic training. To become an 'Emerald' consultant you need to get (and stay) active with 50 PV each month and recruit at least one person in your downline.
Not a huge requirement for most people at this point.
Staying Active
To stay active requires a certain amount of purchasing from you or one of your customers, or both. Each product has a certain amount of PV attributed to it so the amount of money to achieve the PV varies according to which products you buy. To maintain the Emerald status will mean about $50 per month in purchasing to achieve this 50 PV requirement.
My First Year Cost Estimate
This is where I like to do an estimate of the likely cost of being in business with the company in the first year alone. It is based off my own research and opinion and you should always do your own research before making any decisions.
Joining Fee= $39.95
Staying Active= $600
Other= Includes seminars, conventions, products, samples and all the other associated costs of running an mlm business.
Total= $639.95 +
I will say this is definitely lower than most companies I've reviewed but it does not take into account the 'other' section. From what I have seen with this company it seems they have a LOT of products they are going to be up selling to people. The so called 'coach' you have assigned to you is not a coach at all, they are your up line and have a huge incentive to convince you to buy more product.
All of these work out videos, supplements and memberships cost money with no guarantee of success and if you follow the advice of your coach you will most likely end up spending a ton of money in the first year, possibly $1000's.
What The Reps Are REALLY Earning
One good thing about this company is that they display an income disclosure statement which shows the average amount of money the reps are making out of this business.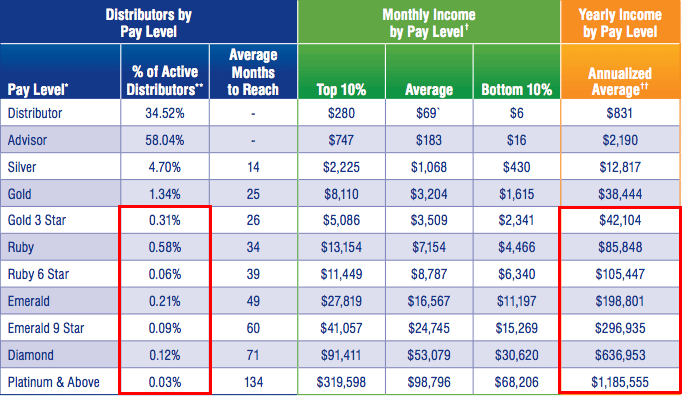 According to this disclosure only 22.5% of people ever make it to Emerald rank which is the most basic rank you could be in to start earning and only 3% ever make an annual income considered full-time. This is the story every time I find one of these disclosures.
It's not to say that people cannot make any money but clearly most people are failing with this so called 'amazing opportunity'.
What I Liked
Have some third party credibility for their products
Provide an income disclosure and a compensation plan on their website
What I Didn't Like
The most amount of complaints about billing and customer service I have ever seen
Some deceptive marketing
A lot of extra purchasing is required to achieve the kind of fitness results people are really wanting
They talk about giving people a 'coach' who is nothing of the sort, they are a rep just like you
They teach the warm market strategy
The income potential is low after looking at the numbers
Final Thoughts
The company has gone to greater lengths to prove the worthiness of their products and they do provide some good information about the opportunity and products on their website.
The number of credit card and refund related complaints online are very concerning and to me the earnings potential seems very low. I also think there's tons of competing websites and business all saying they have the best work out supplements so you would be getting into a highly competitive market with little experience if you are new to this kind of thing.
I've never been a fan of the warm market approach, AKA leaning on family and friends and leveraging trusted relationships with the sole purpose of getting them to sign up and make you money. A lot of the time people have heard about these so called opportunities and are simply not interested, most people are lucky to find a handful of recruits and customers at best.
I spent years listening to 'gurus' which left me broke, frustrated and totally lost. There's only ONE program that helped me create a real income online, here's how it helped me succeed...