Quick Overview
Program Name: Plug-In Profit Site (PIPS)
Summary: A system developed by Stone Evans for people to build 5 downlines using only one sales system, PIPS. When you join the programs he recommends, you are joining his downline in each. You can make money with this but the costs are high and there's some very real drawbacks.
Price: Free – $10,000's
Score: 3.3/10
How This Works

When you get past the overhyped sales page you are directed to a page that asks you to sign up for 5 programs, some free and some paid.
The cool thing is that you don't need to sign up to the ones that cost money to join. The downside is you won't make any money unless you do.
Here's the programs he is currently promoting, I provide links to the ones I've reviewed:
Empower Network: A platform that costs $19.95 per month to be an affiliate and in order to sell any of the products  you MUST purchase them yourself first and maintain a monthly membership for each. This will cost thousands. See their compensation plan for more details.
Six Figure Income: This platform is free to join and provides a way for people to promote products via affiliate marketing and get referrals who do the same, so you can make money on their efforts as well.
Traffic Authority: This is a traffic generation platform selling clicks from $220 to $8,397, along with a suite of tools and training for $124 per month. To be able to promote this costs $20 per month for a 're-seller license' and you can recruit others under you to do the same, thus profiting when they sell these products.
Traffic Monsoon: This is a traffic exchange and revenue sharing website. I personally do not like these kinds of schemes as the traffic quality is low and the the whole thing resembles a Ponzi scheme. This is free to promote.
Got Backup: The person behind this is Joel Therien, the owner of Pure Leverage, which in my opinion is a pretty average mlm program.
Only 2 of the above are actually free to promote.
All of the above have these 2 main things in common:
To really make money you need to promote the same thing you are in
They are all multi level marketing opportunities in one way or another
I haven't reviewed all of these but from what I can see there is some value in some of them overall, I definitely would not just call them all scams.
Having said that, to make the kind of money that Stone is talking about will cost you a LOT more money than he lets on. The idea is to sign up through his website and he will then provide you with some tools and training to be able to send people to the same sales page you just registered through. When people do this, they are automatically signing up under you.
Given the nature of mlm these people are signing up through you but also through Stone automatically, somewhere up the line. There is no problem with that in itself and it does give him incentive to assist you since the more money you make the more money he makes.
This is essentially a system that your recruits can easily follow which is a good thing in this kind of business.
Important Facts About This
Stone is not manually creating you a unique money making website after every person signs up and delivering it the next day as he suggests:

He is giving people a generic website that he will host for you. You must purchase a domain name yourself which is pretty affordable.
I managed to find the kind of websites he is giving people and what I am about to share is probably the most important decision making metric of all.
Turns out Stone is giving people cookie cutter 'home business review' style websites. The same ones he is giving 1000's of other people that sign up.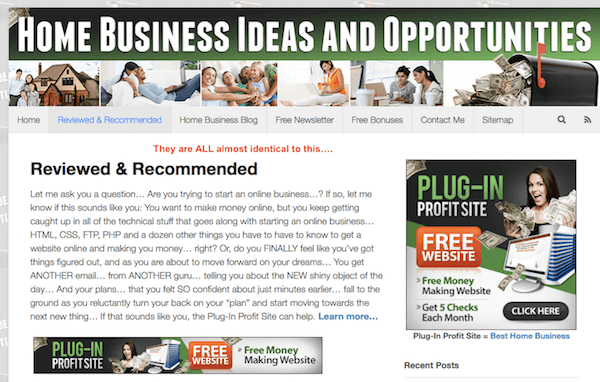 Example 1: http://www.my5incomes.com
Example 2: http://www.buildabiz.com
Example 3: http://www.grantleyswilliams.com
Stone's blog: http://www.homebusiness.net
A website like this is geared in every way to promote the PIPS system and might work in that sense to an extent, but there are 3 major problems…
You are not providing people with unique value that actually helps them, instead you are giving them a fake review website with generic content leading them towards PIPS
The website will NEVER rank in the search engines which means you are missing out on a TONS of free and targeted traffic. This is because the content is generic and 

full

 of spammy affiliate links
You are not branding yourself as an authority at all, none of them even have pictures of themselves or a bio. Personal branding is important when it comes to a website, something he is clearly not teaching people. You are branding Stone, plain and simple.
Here's why the above matters so monumentally: the only way to make money online in any way is to drive traffic, without traffic you cannot succeed no matter you're promoting.
Owning a website (in the way he is showing you) is a far stretch from taking full advantage of what is possible online. I mean WAY off.
He is primarily showing you how to get traffic through solo ads, traffic exchanges and ad buys.
Solo ads are just 'renter email lists' where you send out some generic email copy that is provided to you in the hopes of getting people onto your uniquely coded sales page. Not only is this a very average way to get quality referrals but it is really unethical and involves spamming people to a large extent.
Traffic exchanges are just plain rubbish in my opinion.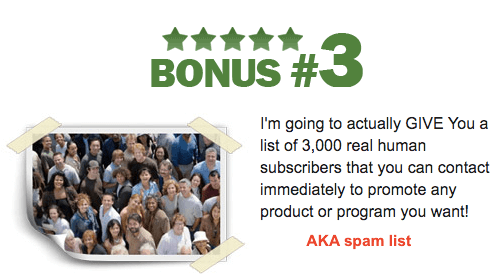 Using paid methods to drive traffic to your new 'review blog' and the sales page is going to be extremely costly and inefficient.
When you factor in the costs of the programs themselves this whole thing is going to cost you thousands of dollars.
There is no need to sign up to some elaborate scheme, pay thousands of dollars and put up some generic review website to make money online. In fact, I wrote an article that shows people how to build a totally unique website for free that actually makes you money by adding real value to people.
History Of Stone Evans
I did some digging on this guy and apart from being a big time mlm 'guru' focussed on making as much money from people as possible, he has an less than desirable history according to the FTC.
Stone has been involved in the promotion of some outright scams and Ponzi schemes in times past which is a red flag at best. The biggest one was an email spamming campaign that promised people they could earn millions each year recruiting people into the same scheme…
I'm not putting this here to bring anyone down but I think people have a right to know the history of the person they are thinking of doing business with. I know I'd want to know!
Hey, maybe he's changed. Cool.
I will say that he still doesn't seem to have an issue with spamming people about 'get rich quick' schemes through solo ads though which doesn't look very good.
What I Liked
Potential to make some good money if you have some capital and re-invest everything you earn for a while, as well as know how internet marketing works
Simple system that your referrals can follow
Can be

partially

started for free
What I Didn't Like
I do not like the traffic generation methods he encourages
The websites he gives people are useless cookie cutter fake review websites that will not rank in the search engines
Stone Evans has a bit of a sketchy history
Very expensive way to get started making money online
Hype on the sales page and lack of real information for people to properly evaluate this
Some of the programs he recommends joining are not what I would consider good value
Final Thoughts
If you are looking to get involved in mlm and want to make some decent sized commissions then this has some potential no doubt.
Unfortunately, given the methods of generating traffic you are shown, this is going to cost you a lot of money and involve spamming people with solo ads.
I also think there are far better and more ethical programs a person could be promoting that add way more value to people. If you are just starting out and don't have thousands of dollars, I do not recommend this to you.
Getting started online does not have to be about promoting a bunch of mlm schemes through some internet guru.
I spent years listening to 'gurus' which left me broke, frustrated and totally lost. There's only ONE program that helped me create a real income online, here's how it helped me succeed...