Quick Overview
Program: Wah Edu
Review Summary: A link posting scam designed to get you in the door to much higher ticket purchases. Your information will be sold to the highest bidder, you'll get tons of annoying calls and emails and it will be extremely difficult to obtain a refund. There are many of these near identical websites floating around and they are connected to a string of scam websites.
Price: $97 for 3 months
6 Reasons This Sucks
One word would sum this whole gig up but I realise that it's important for you to understand the facts so you can make an educated decision.
#1 They Use Completely Fake & Deceptive Websites To Promote This Program
The first big red flag is the kind of websites these guys use to promote this program, completely fake news websites. From the stories, the names, the comments at the bottom and the suggested affiliations with news companies… it's all totally fake. Every single link points to whatever program they are pushing.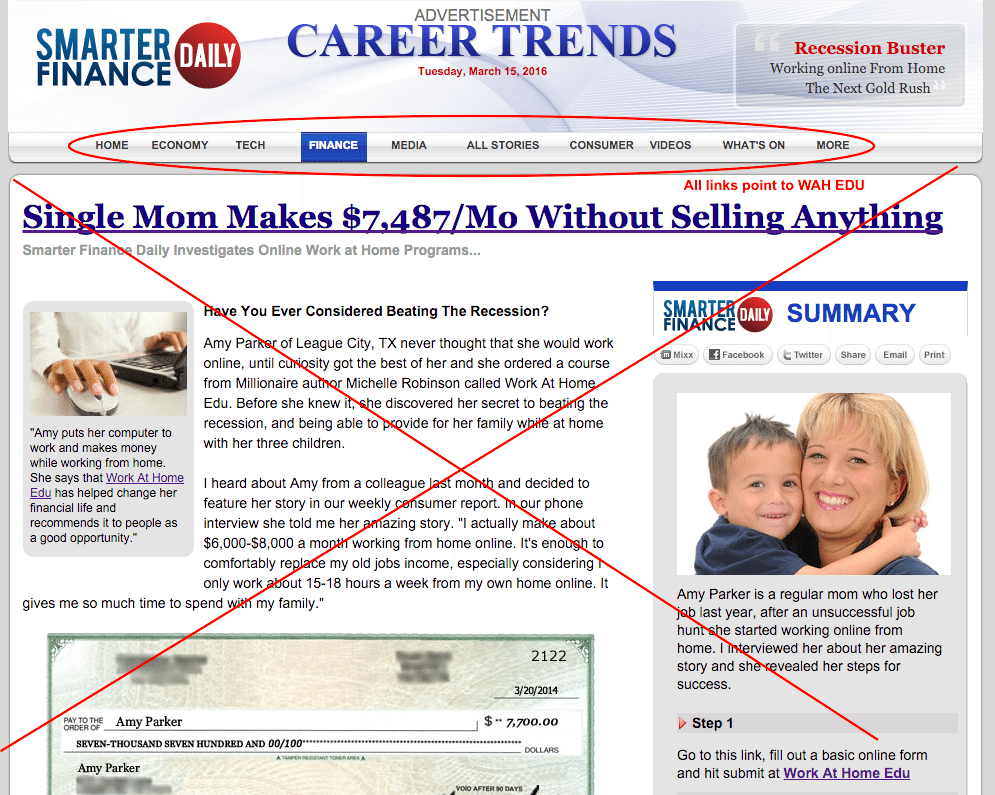 These guys have many of these sites that all do the same thing, use the same fake comments, testimonials and tactics.
#2 They Are Constantly Changing Names
From what I have seen so far there are several main website templates these people use with their websites.
They each sell the same thing but just change names, web addresses and fake personas each time they get exposed or shut down. They simply change a few details around and keep on pushing the same old rubbish.
This makes it very hard to to warn people and it also makes it very difficult for authorities to do much about. This particular website was once known as 'Work At Home edu' and is near identical to the following websites:
Wah Academy
Work At Home University
Wah University
Wah Rev
Many other names
A genuinely legitimate business would have absolutely no reason to have a vast array of almost identical websites all selling the same thing. The only reason for this is because they are constantly shutting down and re-opening under different names as people catch on to their deception.
TO make it undeniably clear who we are really dealing with here I want to show you 3 points of evidence…
1. Work At Home Edu (old name for this program under review) has been associated with the fake persona of 'Michelle Robinson' according to one trusted source and other reviews.
2. Michelle Robinson was also apparently the 'creator' of Ultimate Home Profits (UHP), yet another total scam they run associated with a fake Donal Trump news website.
3. The UHP website is now stating that 'Emily Hudson' (also fake) is the genius behind this program, the exact same program on the same website.
So by this we know that Wah Edu is associated with known scam websites, fake personas and a ton of lies and deception. Most people would never know how deep these scams run or about their history but the proof is here for all to see.
#3 They Are Not Teaching You Anything New Or Worthwhile
The training they are providing is very generic and focusses on affiliate marketing using the seediest and most 'spam like' methods going. To make any kind of money with this you will absolutely need to either spam people through social media, forums or other places with your affiliate links or pay bucketloads on advertising just to get your ads out there.
Teaching people legitimate and scalable methods of building an online business is simply not what these people do.
What exactly is affiliate marketing and affiliate links anyway?
Affiliate marketing is a legitimate business model whereby you promote other companies products and services and get paid a commission for doing so. There are various ways you can go about this but by far the best approach is to build your own website and use it to get free traffic (website visitors) to promote to through Google, Yahoo and Bing.
Getting involved in traffic 'schemes' or spamming is not the best ways to get started as a newbie or at all for that matter. Paid traffic can work very well but you'll lose a lot of cash if you don't know what you are doing, trust me on this.
#4 The Support Is Very Average
There are countless complaints and reviews explaining how people have had a very rough time trying to get support, access their accounts and get refunds. If there other websites are anything to go by then the support is not support at all, it's a clever sales team working hard to get you spending more money.
#5 The Pressure Tactics
After you pay the fee and get access to this you will immediately be hit with up sells that essentially tell you that in order to take advantage of this properly you'll need to buy more stuff.
If that's not enough you are then hit with a ton of annoying calls, texts and emails trying to convince you to buy more products in the hope of achieving success.
#6 Your Sensitive Information Is Not Safe
These people have a solid reputation for selling a persons information to the highest bidder. People are reporting being called several times per day by pushy sales people from this company and others which is a clear indication these guys are profiting by selling your contact details.
The other concern is that you are giving them your sensitive information such as credit card details which may be used fraudulently. I am not saying for a fact this will happen but based on my research and the history of these websites, there's a strong chance of it.
Final Thoughts
This is one of the more legit 'looking' websites these guys are running and it appears that they do provide some generic training videos. That said I definitely do not believe this is worth spending your money on and it will inevitably lead you down a path of frustration and losing money.
My advice is to steer far clear from this and look for more legitimate ways to build a business.