One of my readers recently requested I do a review of the World Ventures mlm business opportunity to see if it's legit or a scam so I decided to take a look.
I am not a rep for this company so this is totally unbiased and solely based on my opinion and research.
About The Company
The company was founded in 2005 by Mike Azcue and Wayne Nugent as a travel club leveraging the multi level marketing business model. The corporate website states their mission is to create more fun, freedom and fulfilment through travel, entertainment and opportunity.
They are a global company and have a foundation set up to help less fortunate children all over the world live better lives, which is pretty cool I think… even if it is just about PR.
The 'Dream' Club
After spending some time looking at the membership offer I struggled to see how they were offering anything better than a free website such as FlightCentre.com. The main video showcasing the membership was nice and somewhat appealing but it certainly did not enlighten me as to why I would want to buy this membership.
Essentially they are saying that by joining you have access to 'special deals' on accommodation and entertainment around the globe along with some other perks such as travel insurance and airport transfers etc.
Since I haven't purchased a membership myself I decided to spend some time reading the reviews, complaints and testimonials to see what people are saying about this.
The first review I read was by a former representative of the company and it went into detail on his experience with the business. As he recruited more and more people he began receiving a large number of complaints (with tangible evidence) that the so called 'deals' the company offered really weren't as great as people were led to believe.
He states that at least 95% of the packages are not cheaper or providing people real value and that the whole business is designed to sell people the 'dream' and sign them up, not provide people with a genuine and marketable service.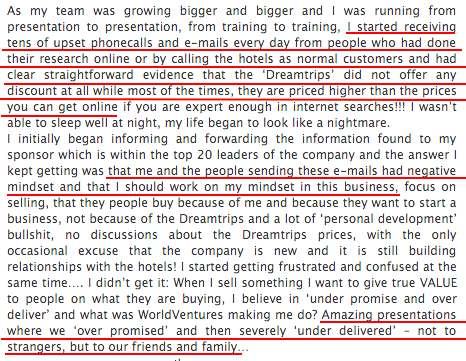 This is a very alarming sign and something quite common among scam mlm's, it's all about the motivational BS and recruiting people who recruit people rather than providing genuinely valuable products and services. This isn't always the case, but it happens more often than not.
In all fairness that review was written in 2011 so maybe the company has since changed it's ways.
Here's some recent feedback I found on the BBB website, which shows the company has had 216 complaints lodged against them within the last 3 years.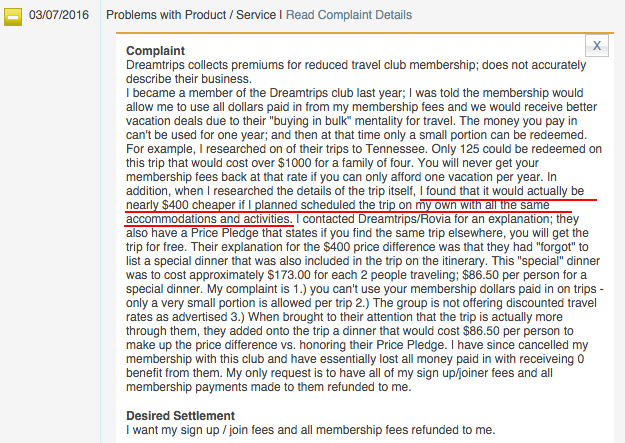 There are also some positive reviews on there as well but in my opinion it only reveals the mindset of these reps, the mindset instilled into them in the trainings and conventions.

Apparently if you're not succeeding you're doing everything wrong. But is this really the case? Is that a fair thing to say to budding entrepreneurs trying to build a business and enjoy the benefits of a holiday club?
Not at all, in fact that is far from true.
Yes anyone can make money with this company but the majority don't and it's not always because they 'weren't trying hard enough'. It's the way the company teaches people to build a business, the low value of the membership and the overhyped presentations they use to get people in the door.
People often enter these companies with false expectations courtesy of the 'hard selling' rep that presented them with the opportunity. They realise after 6-12 months that there is a LOT more work and recruiting needed beyond family and friends and once they realise they are selling people into something that isn't all that great, it becomes very hard to continue.
The Business opportunity & Compensation Plan Explained
The concept of this opportunity revolves around creating time, location and financial freedom by enjoying the benefits of the WorldVentures membership and simply sharing this with your friends and family. According to some former members the presentations are very convincing and often tell people that they can just join up, get great deals and build a business 'on the side' quite easily.
That's the thing about presentations though… they 'present' information in a totally one sided and often overhyped way.
Let's take a look at the facts of the compensation plan to help you work out what this company is really offering and how much it's going to cost you.
How You Can Earn
Weekly Team bonus: This is a weekly commission that pays you $100 every time you achieve 3 'credits' on both your left and right legs, each time the 3 credits are achieved on both sides you earn a 'cycle'.
This commission is based on the first purchase of all people in your organisation, with a certain number of credits being attributed to each product/ membership. It operates on what is called a 'binary system' which means you can only ever have 2 people directly underneath you, and the same goes for everyone else in your downline.

Customers buying products and memberships that are not reps also count towards reaching these cycles although they are not placed in your binary tree.
There is a cap on what you can earn at each rank within the company as the following chart shows: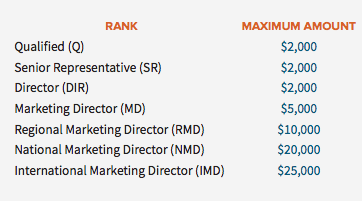 Monthly Commissions: This essentially operates in the same way as the weekly commission I just explained only it is based on monthly recurring billing, every membership has a monthly amount that people are charged.
So 3 credits on either side equals 1 cycle, and 1 cycle pays you $10. This increases to $15 per cycle once the rep reaches 'Director' status. The commission is based on your entire organisation's volume.

There's also a cap on what you can earn with this each month as follows: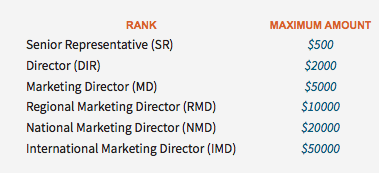 Personal Sales Bonus: Each time you get 3 customers in a 28 day period, you earn between $100-$150 and there is no limit to how many of these you can earn in any given 28 day rolling period.
Wings And Wheels Bonus Program: The somewhat unique thing about this compensation plan is that you simultaneously build a 'shadow organisation tree' that comes into play with this bonus. We've discussed the binary organisation and this is what almost all of the compensation plan is focussed on.
This bonus relates to your 'lineage organisation'.
Your lineage organisation keeps track of everyone that you've signed up and that they've signed up and so on, a map of your organisation I suppose that is not limited by the binary system.
For example: Lets say you've built an organisation 15 levels deep in your binary tree. You meet Jane and want to sponsor her, since this is your binary tree (can only have 2 people directly on your first level) she doesn't get placed directly under you. She gets placed on your 15th level and goes under Bob.
So in other words she's placed under Bob but in reality you sponsored her, thus in your lineage tree she would appear on your first level instead of level 15 in your binary tree.
It's a little bit confusing but just think of it like a record of who actually sponsored who and it's purpose is to pay you the 'Wings and Wheels' bonus.
What is this bonus anyway?
In a nutshell you can earn between $300-$900 per month if you achieve a certain level of volume in this lineage tree according to the total sales volume your organisation is producing.
Other Bonuses: There are various bonuses you can earn in the form of money or 'company dollars' that can be redeemed for holidays or training events. There's also the car and dream house bonus if you achieve the highest rank within the company.
Getting Started & Staying Active
The cost of getting started is $114.95 for the 'Representative Business System' (RBS) which is essentially just a back office to run your business with. To stay active requires a monthly fee of $14.99 to maintain this membership.

It doesn't appear as though you need to purchase into any of the travel club memberships in order to earn which is pretty good, but I'm sure it would be massively encouraged by everyone.
Depending on the rank you are at will determine the amount of customers/ reps you need in order to stay active at a particular title.
It is worth noting that in order to earn the monthly residual commissions you must get to 'Senior Representative' status which requires 60 people in your organisation, not so cool.
My First Year Cost Estimate
This is a guess on what it might cost the average person in the first year of being in business with this company, it's based on my opinion and research. Always do your own research before making any decisions.
RBS= $294.82
Gold DreamTrip club membership= $599.88 (not necessary to join or be a rep but it's hard to convince people to buy something you aren't even willing to buy, this also doesn't take into account the actual travelling you'll likely do)
Seminars, conventions and associated costs= $500
Total= $1394.71+
All things considered this is not the most outrageous cost but it depends on what you are trying to accomplish. Personally if I was trying to bootstrap a business I'd not be spending hundreds or thousands of dollars on holidays, especially when I know I could be getting the same if not better deals elsewhere without paying for a membership.
The Earnings Disclosure Is a Bit Scary
This is where the ugly truth about this company shows itself and unfortunately this is the case far too often in mlm.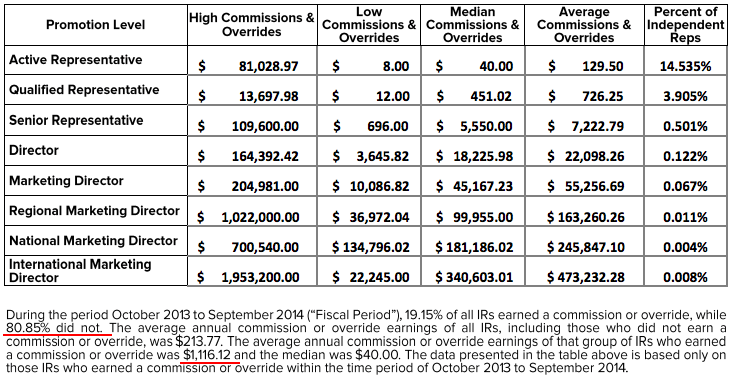 According to the companies 2014 annual report (which is actually worse than the 2013 report) out of ALL reps in the company, 80.85% earned nothing at all… zero!
It gets worse though, 18.44% of all reps earned less than $726.25 per year on average.
So in other words, 99.29% of all reps earned either nothing at all or less than $726.25 per year on average. Only 0.09% of all reps in this company earned what would be considered a full time income on average according to this report,  that is far less than 1 single percent!
Yet they are telling people they can easily 'make a nice residual income on the side'… not likely.
What I Liked
Fairly low cost to get started and stay active
Company provides links to their earnings disclosure and a comp plan overview
What I Didn't Like
The membership club appears to be pretty lame in terms of savings according to many reviews, I'd rather use other services for free
They have a lot of complaints on the BBB website
The earnings disclosure outlines the crazy low income that most people are getting with this business
The holidays they provide effectively limit a persons choice to their database which in comparison to what else is on the open market, is not very big or competitive
They cap the commissions paid to reps. Essentially everyone will have something 'shaved' off their payment if the company pays out more than 65% on their total revenue in commissions for that month
They teach the warm market technique which clearly fails the majority
Final Thoughts
When I first looked at this company I struggled to see the value in the memberships and the further I dug into things the more I realised my thoughts were right. You are essentially paying hundreds of dollars per year to access savings you could easily find for yourself for free online. It certainly seems this way. You are then recruiting friends and family into the same thing regardless. If the membership is in fact of no real value and the complaints are valid, then I would have no problem in labelling this a total scam. I cannot say for sure but the evidence seems to support this, it certainly doesn't look good as it stands.
I spent years listening to 'gurus' which left me broke, frustrated and totally lost. There's only ONE program that helped me create a real income online, here's how it helped me succeed...